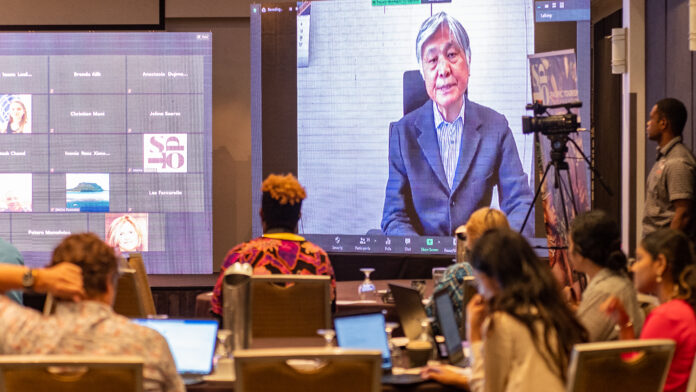 Theme:UNWTO Workshop on Sustainable Tourism Product Development in the Pacific Islands
Date:2021,03,31
Place: Hybrid (Online & Suva, Fiji)
There were 51 participants from 11 countries including 5 UNWTO Member States
Fiji -2
PNG – 5
Samoa – 2
Timor Leste – 4
Vanuatu – 2
New Caledonia – 3
American Samoa – 1
Cook Islands – 3
Federated States of Micronesia – 1
Marshall Islands – 3
Solomon Islands – 3
Fiji Private Sector – 14
SPTO – 8
In addition there in addition there were 13 speakers from 10 countries
Nuie – 1
Australia – 2
New Zealand – 1
Kiribati – 1
Indonesia – 1
Malaysia – 1
Fiji – 2
Spain – 1
Vanuatu – 2
Korea – 1
The Workshop was organized in collaboration with the RSPOAP in collaboration with UNWTO RDAP with the support of the Pacific Tourism Organization and UNWTO funding from the Ministry of Culture, Sports and Tourism of the Republic of Korea.
The workshop provided an important forum for high-level policymakers of the Pacific and other pioneer countries to get together and reflect on effective and responsive actions in sustainable tourism product development.
The objectives of the workshop were:
To support and advance the development of sustainable tourism products in the Pacific Islands.
To encourage the exchange of good practices in sustainable tourism development between Pacific Islands and pioneer countries.
To promote and disseminate the findings of the UNWTO/APTEC Publication on Sustainable Tourism Product Development Opportunities in the Pacific Islands.

The workshop was held using a hybrid workshop (both in-person in Suva, Fiji and online) due to the restrictions imposed by the Covid19 pandemic.
There were three sessions focused on the following topics:
– Session 1: Sustainability and Tourism Product Development in the Pacific Islands;
– Session 2: Restarting Tourism: Harnessing the Potential of Intra-regional Tourism and Sustainable Product Development;
– Session 3: Innovation and Digital Transformation: New Opportunities in the Sustainable Tourism Development Era
Each session began with a presentation from an expert, followed by country presentations addressing countries' specificities and highlighting best practices on each topic. A question-and-answer discussion with participants was held for each session.
RSOAP organized this workshop in collaboration with UNWTO RDAP and SPTO. RSOAP role was specifically in;
Cooperation Agreement with UNWTO
Technical Note
Invitation Letters
Program
Speaker Confirmation
Mr Hompo Opened the Workshop with welcome remarks through video presentation
Liaise with suppliers: Facilitator, Video Company, Venue, Banners and Expert Speakers
Ms Alcinda Trawen provided a presentation on the UNWTO/APTEC Publication on Sustainable Tourism Product Development Opportunities in the Pacific Islands
The workshop was featured in 2 of Fiji daily newspapers, the Fiji Sun and the Fiji Times on the 1st of April. It also was featured in Fiji Television News – Fiji One News on 1st of April.
There were also two additional outputs from this workshop a Workshop Report by the Facilitator and a Commemoration Video by the Video Company.
Also all presentations of all speakers are available on the UNWTO website https://www.unwto.org/event/unwto-workshop-on-sustainable-tourism-development-product-in-the-pacific-islands
【Related website】
https://www.unwto.org/event/unwto-workshop-on-sustainable-tourism-development-product-in-the-pacific-islands