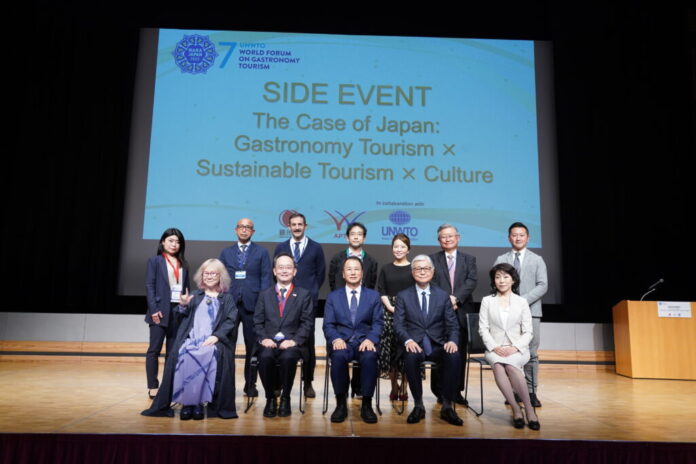 The 7th UNWTO World Forum on Gastronomy Tourism was successfully held in Nara, Japan from December 12 to 15, 2022. The gathering continued to spotlight the power of gastronomy tourism in enriching the experiences of travelers and tourists while creating connections with local residents, their culture, history, nature, and heritage.
Alongside the forum, Japan Tourism Agency (JTA) of the Ministry of Land, Infrastructure, Transport, and Tourism, UNWTO through its Regional Support Office for Asia and the Pacific, and the Asia-Pacific Tourism Exchange Center (APTEC) hosted a side event entitled, "The case of Japan: Gastronomy Tourism × Sustainable Tourism × Culture" to introduce the initiatives and good practices of gastronomy tourism throughout Japan.
The event was programmed with panel discussions on three topics: (1) sustainable tourism development, (2) stakeholder perspectives on gastronomy tourism, and (3) its capacity to become a cultural enhancer of a destination.
The session was opened by Mr. Mitsuaki Hoshino, Vice-Commisioner of the Japan Tourism Agency, Mr. Gen Nakagawa, Mayor of Nara City, and Mr. Harry Hwang, Director of the UNWTO Regional Department for Asia and the Pacific, and a keynote speech from Ms. Sandra Carvao, Chief of UNWTO Tourism Market Intelligence and Competitiveness.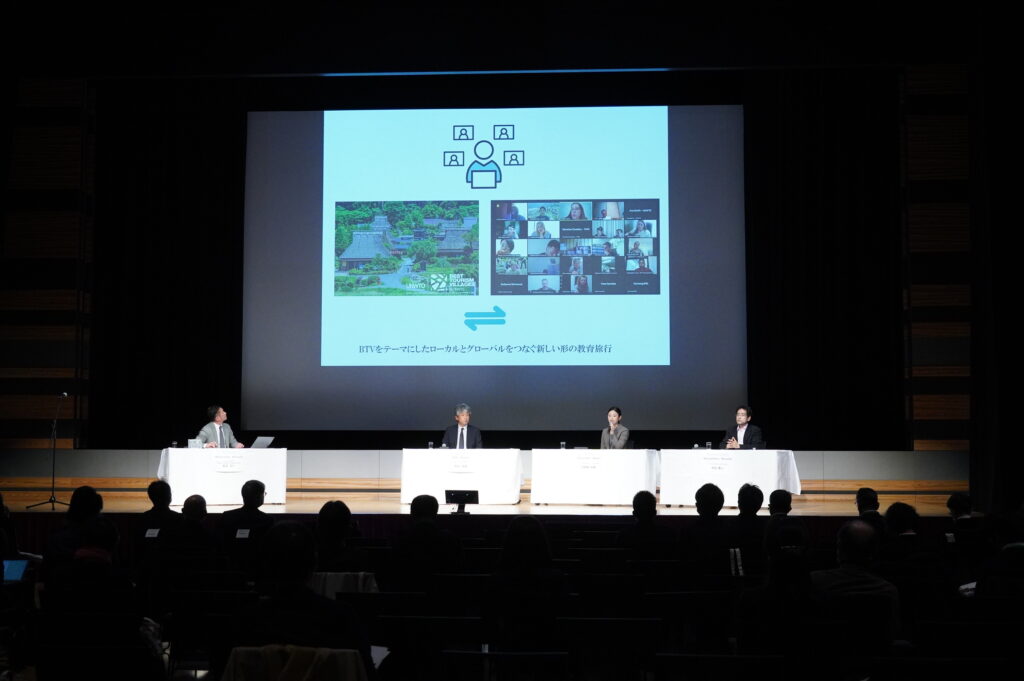 The day was graced by speakers from the UNWTO 2021 Best Tourism Villages of Japan — Niseko Town, Hokkaido and Miyama Town, Kyoto Prefecture. Each village shared its good practices for sustainable tourism. Mr. David Mora of the Basque Culinary Center joined Ms. Kayo Yoshida, President, Umenoyado Sake Brewery, Mr. Takuji Takahashi, Chef -Kinobu Restaurant, and Mr. Masato Ogawa, ONSEN & Gastronomy Tourism Association to talk about gastronomy tourism in Japan. Furthermore, filmmaker Ms. Chigumi Obayashi, and Mr. Kazuhito Sato, Policy Director, Usuki City, Oita Prefecture talked about the ties of gastronomy to a local destination's culture.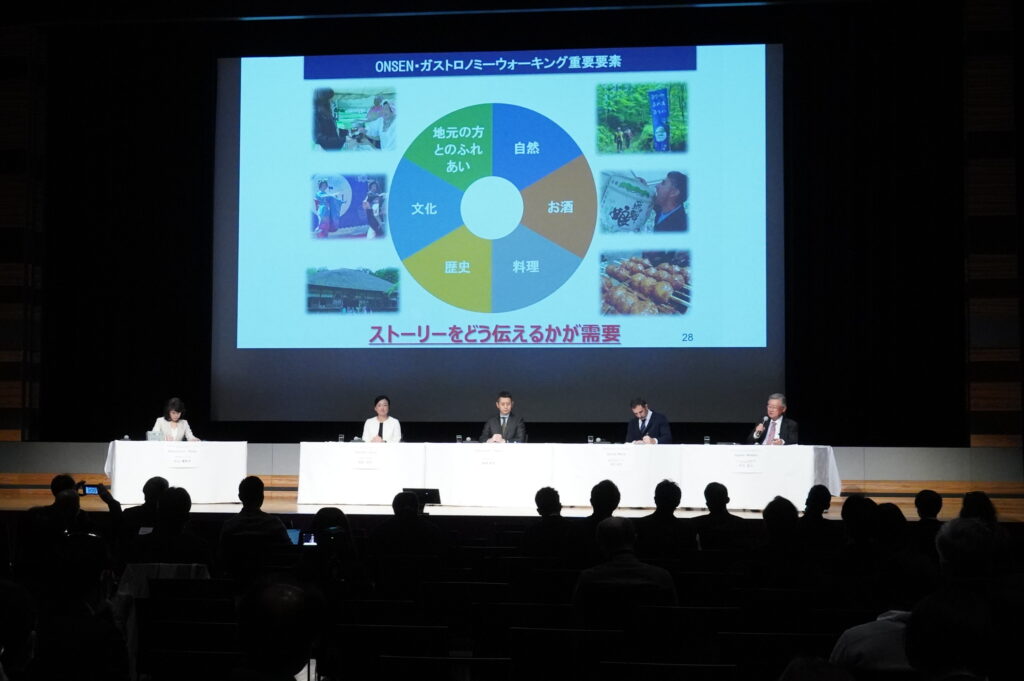 UNWTO also welcomes new signatories to the Global Code of Ethics for Tourism as nine (9) Japanese entities commit to this roadmap for responsible and sustainable tourism development. The ceremony was witnessed by the UNWTO Secretary-General Zurab Polorikashvilli, the Vice-Commissioner of the Japan Tourism Agency, Mr. Mitsuaki Hoshino, and the Chief of the UNWTO Regional Support Office for Asia and the Pacific, Mr. Yoshiaki Hompo on December 14, 2022.
The nine entities who signed the Private Sector Commitment are: AN Hotel Corporation, Japan Tourism Facilities Association, JW Marriot Hotel Nara, Map travel Co. Ltd., Matsui Honkan, Nara Hotel Co. Ltd, Ryokan Koyo Co. Ltd., Tamanoyu Co. Ltd.,Watazen Co. Ltd.
(From the left in the front row) Mr. Kouki Tomoda CEO of AN Hotel Corporation, Mr.Yutaka Suzuki President of Japan Tourism Facilities Association, Mr. Christopher Clark General Manager of JW Marriott Hotel Nara, Mr. Teppei Daido, President of MapTravel Co., Ltd., Ms. Setsuko Matsui CEO of Matsui Honkan, Mr. Ryuta Harada, President of Nara Hotel Co., Ltd and Ms. Yoshie Sato, President of Ryokan Koyo Co,Ltd.
(From left to right, 2nd row) Mr. Harry Hwang Director of UNWTO Department of Asia and the Pacific, Ms. Izumi Kuwano President of Tamanoyu Co., Ltd., Mr. Mitsuaki Hoshino Vice-Commissioner of Japan Tourism Agency, Mr. Zurab Pololikashvili UNWTO Secretary-General, Mr. Shogo Arai, Governor of Nara
A complete list of private sector signatories can be found on the Global Code of Ethics for Tourism site.
Relevant Sites: