International tourism is well on its way to returning to pre-pandemic levels, with twice as many people traveling during the first quarter of 2023 than in the same period of 2022.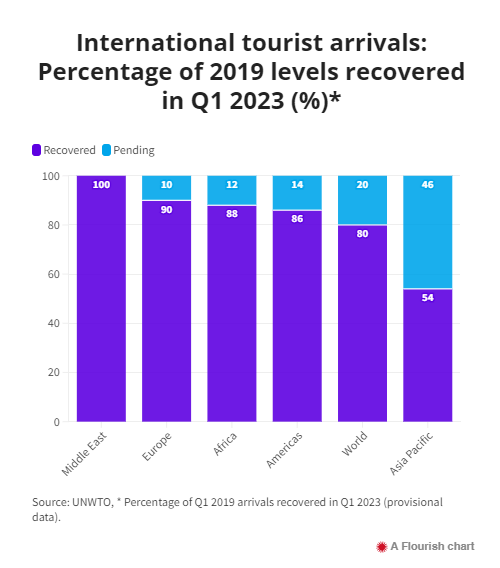 The second tourism barometer of 2023 shows an estimated 235 million tourists traveled internationally in the first three months, more than double the same period of 2022. These results are in line with UNWTO's forward-looking scenarios for 2023 which projected international arrivals to recover 80% to 95% of pre-pandemic levels by the end of this year.
International tourism is experiencing a rapid recovery in Asia and the Pacific where arrivals climbed to 54% of pre-pandemic levels in Q1 2023 after the opening up of several destinations and source markets at the end of 2022 and earlier this year.
According to IATA, both international seat capacity and passenger demand recovered around 80% of 2019 levels through February 2023.
However, the challenging economic environment remains a main factor weighing on tourism recovery with inflation and rising oil prices translating to more costly transport and accommodation costs.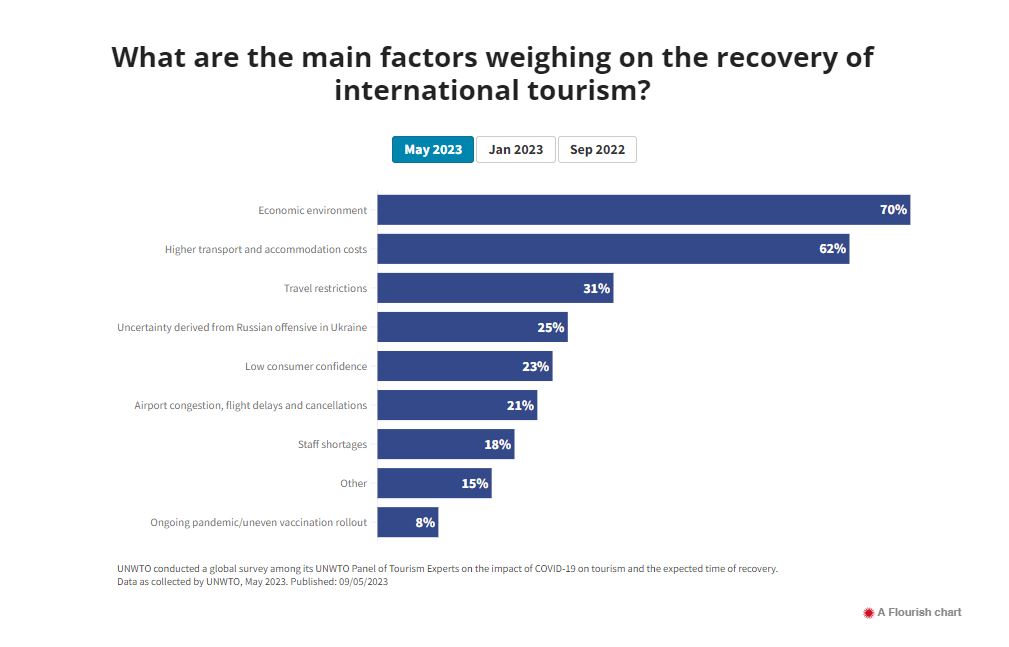 Read more on the UNWTO Tourism Barometer (May 2023 excerpt) here.
The UNWTO World Tourism Barometer is a publication of the World Tourism Organization (UNWTO) that monitors short-term tourism trends on a regular basis to provide global tourism stakeholders with up-to-date analysis of international tourism. The information is updated several times a year and includes an analysis of the latest data on tourism destinations (inbound tourism) and source markets (outbound tourism). The Barometer also includes three times a year Confidence Index based on the UNWTO Panel of Tourism Experts survey, which provides an evaluation of recent performance and short-term prospects for international tourism.
Source: UNWTO Press Release Barometer May 9th, 2023 (Madrid)