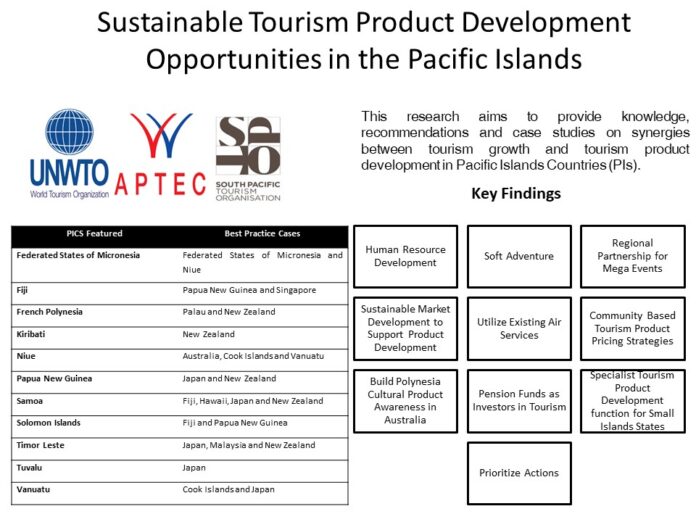 Theme:Restarting Sustainable Tourism in the Pacific
Date:2020,12,14
Place: Hybrid – Online & The Westin Denarau Island Resort & Spa, Nadi, Fiji
Number of participants :There were 33 participants from Fiji, USA, Thailand, Australia, Japan, Philippines, Singapore, Northern Mariana Islands, Vanuatu, Marshall Islands and Solomon Islands.
The participants included the UN Development Programme, UN World Tourism Organization HQ, International Labour Organization, SPTO, the World Bank Group, Asian Development Bank, Fiji Airways as well as tourism offices, academics and private sector representatives from Australia, New Zealand and the Pacific.
The Pacific Tourism Roundtable was organized by the UN Resident Coordinator in Fiji in partnership with the Pacific Tourism Organisation (SPTO).
The Roundtable was part of a larger 2-day program on 'Pacific Forum on Sustainable Development (PFSD) & Capacity Building Workshop for Pacific SIDS' organized by the UN ESCAP (Economic and Social Commission for Asia Pacific) Subregional Office for the Pacific. The ESCAP Subregional Office for the Pacific covers Fiji, Kiribati, Marshall Islands, Micronesia (Federated States of), Nauru, Palau, Papua New Guinea, Samoa, Solomon Islands, Tonga, Tuvalu and Vanuatu, as well as American Samoa, the Cook Islands, French Polynesia, Guam, New Caledonia, Niue and the Northern Mariana Islands as associate members.
The Restarting Sustainable Tourism in the Pacific roundtable was to exchange information and strengthen partnerships between the UN system, key industry leaders, development partners and other tourism sector stakeholders in efforts in restarting safe and sustainable tourism.
Discussions centered around mitigating the socioeconomic impacts on livelihoods – particularly on women's employment and economic security; advancing innovation and the digitalization of the tourism ecosystem; fostering sustainable and green economic growth especially at the regional level; boosting competitiveness and building resilience.
RSOAP was asked to participate in the plenary group preparing for this Roundtable as well as to speak in the Panel 1 Session. Ms. Alcinda Trawen represented RSOAP.
RSOAP Presentation covered;
UNWTO Recovery/restart initiatives
UNWTO Latest statistics
UNWTO Regional Technical Assistance projects
The discussions helped to seek agreement on priority areas to restart safe and sustainable tourism in the Pacific; as well as identifying potential collaboration and partnerships to coordinate future efforts to transform tourism, including in policy development and resource mobilization.