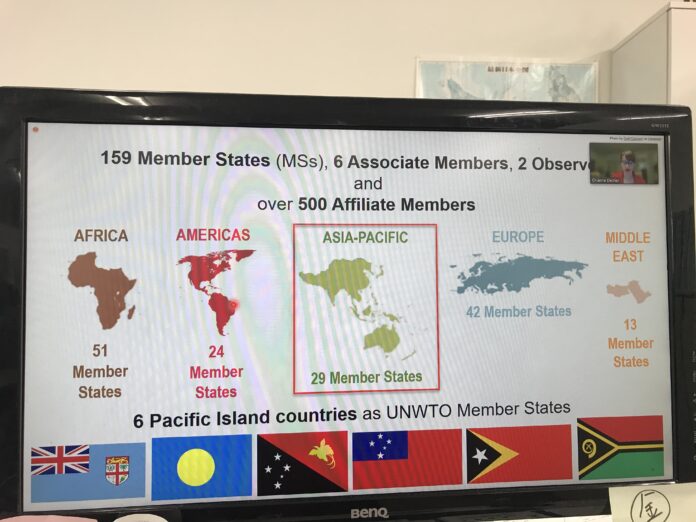 Title: Presentation about Global Tourism Trends during the Pacific Island Centre webinar
Date: 16th December 2021
Place: Online
Theme: Global Tourism Trends and UNWTO Initiatives for COVID-19 Recovery
Number of participants: 60 participants from the private tourism sector, academia, public sector and other international organizations
Introduction:
The presentation was delivered online as one of the keynote speeches for the Pacific Island Centre webinar on Covid-19 impacts and perspectives on tourism sector in the Pacific. It was organized by the Pacific Island Centre (PIC) in collaboration with the Palau Visitors Authority Japan Office and UNWTO Regional Support Office for Asia and the Pacific.
Bullet points:
The presentation touched upon the following topics:
Presentation of UNWTO and the Regional Support Office for Asia and the Pacific (RSOAP)' s mission, services and Member's network in the Pacific.
International tourism and COVID-19
Highlight on the results of international tourism arrivals for 2020 and 2021, with a focus on the good results for the summer 2021 compared with the same period in 2020. Review of the evolution of travel restrictions and the prospects for the recovery of international tourism in the future. Explanation of the latest international tourists' behaviour trends to look out for since the start of the pandemic.
COVID-19 & Tourism UNWTO Resources
Explanation on the work and strategy in place by UNWTO: Policy guidance and coordination, COVID-19 impacts monitoring tools and resources and key publications dealing with COVID-19 related issues. Some key initiatives from UNWTO were highlighted such as the One Planet Sustainable Tourism Programme and its deriving star initiatives, the Global Tourism Plastics Initiative and the Glasgow Declaration for Climate Action in Tourism, the UNWTO International Network of Sustainable Tourism Observatories, the Measuring Sustainable Tourism framework and he Global Code of Ethics for Tourism.
The webinar received good feedback from the participants, as it helped them to better understand the current global situation for international tourism under the COVID-19 circumstances.
The report of the webinar is available on the PIC website here.