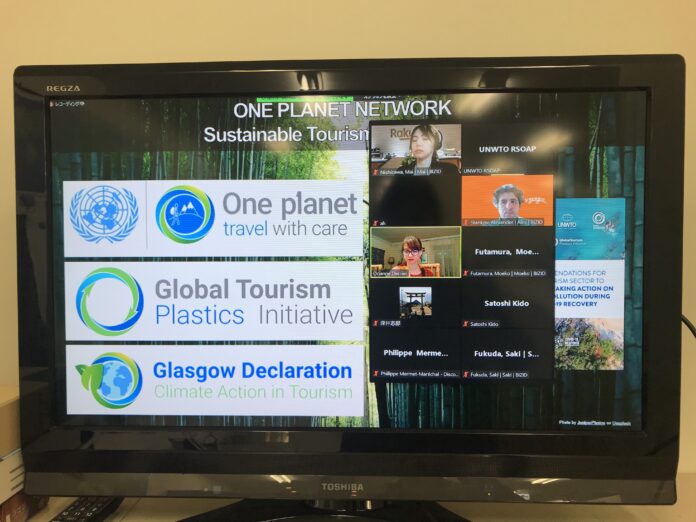 Date: 10th December 2021
Place: Online
Theme: Global Tourism Trends and Prospects during & post COVID-19 Future Image of Tourism in Japan
Number of participants: Over 1,000 participants from local municipalities development departments, tourism promotion association and DMOs.
Introduction:
The presentation was delivered online as one of the keynote speeches for the Rakuten Travel Experiences Webinar.
Bullet points:
The presentation touched upon the following topics:
Presentation of UNWTO mission and the Regional Support for Asia and the Pacific (RSOAP), as well as the importance of tourism for the achievement of the SDGs.
International tourism and COVID-19
Highlight on the results of international tourism arrivals for 2019, 2020 and 2021. Review of the evolution of travel restrictions and the prospects for the recovery of international tourism in the future. Explanation of the latest international tourists' behaviour trends to look out for since the start of the pandemic.
UNWTO & RSOAP Sustainable Tourism & Gastronomy Tourism Initiatives
Introduction to the sustainable tourism initiatives of UNWTO and RSOAP (Sustainable Tourism Programme of the One Planet Network, INSTO, Measuring Sustainable Tourism framework and Global Code of Ethics for Tourism and related sustainable tourism research and webinar resources) and activities in relation with a rising tourism trend: Gastronomy Tourism.
COVID-19 & Tourism UNWTO Resources
Explanation on the work of UNWTO regarding the mitigation and recovery resources available on COVID-19 and Tourism.
The webinar received good feedback from the participants. They were particularly interested to hear about the prospects for international tourism and travellers' trends amidst the COVID-19 context.