Below are excerpts from the September 2022 release of the UNWTO Tourism Barometer:
The steady recovery reflects strong pent-up demand for international travel, especially in the months of June and July which are part of the Northern Hemisphere summer season. The easing or lifting of travel restrictions in an increasing number of countries also contributed to boost results.
International tourist arrivals almost tripled (+172%) in January-July 2022 compared to the same period of 2021. Numbers climbed from -64% in January 2022 (versus 2019) to -28% in July, the strongest month since the start of the pandemic.
Asia and the Pacific (+165%) saw arrivals more than double in the first seven months of 2022, though they remained 86% below 2019 levels.
The ongoing recovery can also be seen in outbound tourism spending from major source markets. Expenditure from France was at -12% in January-July 2022 compared to 2019 while spending from Germany stood at -14%. International tourism spending remained at -10% in Belgium, -23% in Italy and -26% in the United States.
The uncertain economic environment seems to have reversed prospects for a return to pre-pandemic levels in the near term. 61% of UNWTO Panel of Experts now see a potential return of international arrivals to 2019 levels in 2024 or later while those indicating a return to pre-pandemic levels in 2023 has diminished (27%) compared to the May survey (48%).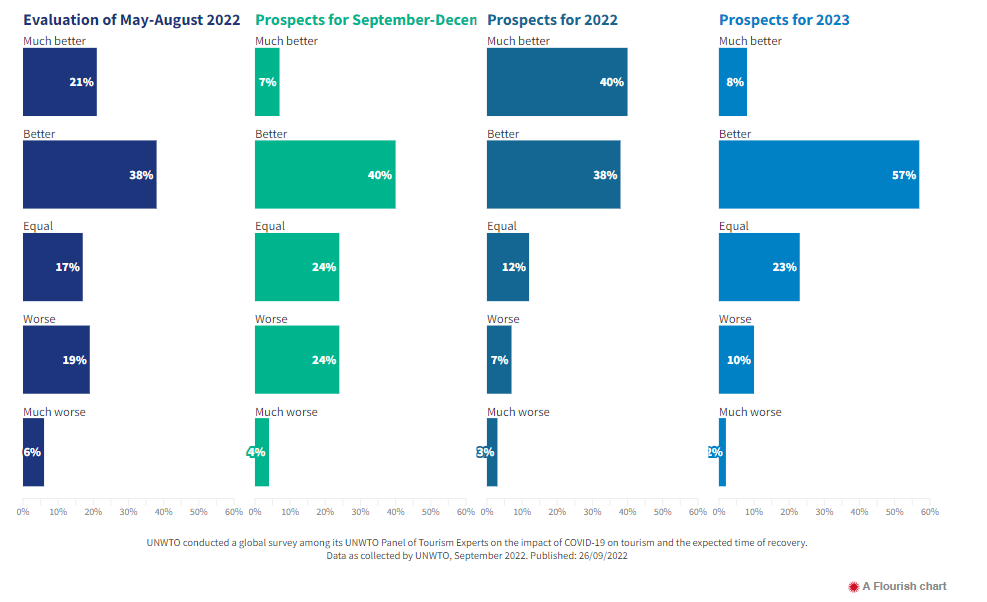 Know more about the global tourism sector performance from January to July 2022 by checking the UNWTO World Tourism Barometer Volume 20, Issue 5.